Last Updated: 4 months The Cachil DeHe Band of Wintun Indians of the Colusa Indian Community of the Colusa Rancheria is a federally recognized tribe of Wintun Indians from central California. The tribe's reservation is the Colusa Rancheria, also known as the Cachildehe Rancheria. It is located in Colusa County, California and was founded in 1907.
Official Tribal Name: Cachil DeHe Band of Wintun Indians of the Colusa Indian Community of the Colusa Rancheria
Address:  3730 Highway 45, Colusa, CA. 95932
Phone: 1.530.458.8231
Fax: 1.530.458.4186
Email:
Official Website: http://www.colusa-nsn.gov/
Recognition Status: Federally Recognized
Traditional Name / Traditional Meaning:
Common Name / Meaning of Common Name:
Alternate names:
Also known as: Colusa Indian Community
Also known as Cachildehe Rancheria.
Also known as Colusa Rancheria.
Alternate spellings / Mispellings: 
Name in other languages:
Region: California
State(s) Today: California
Traditional Territory:
Confederacy: Wintun
Treaties:
Reservations: Colusa Rancheria
Land Area:   573 acres (2.32 km2)
Tribal Headquarters:  Colusa, California
Time Zone:  Pacific
Population at Contact:
Registered Population Today: 84 as of 2011, with 77 living on the Colusa Rancheria.
Tribal Enrollment Requirements:
Genealogy Resources:
The Genealogist's Address Book
Government: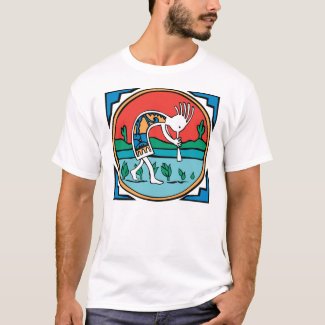 Buy This Kokopelli Color T-ShirtThe tribe's reservation is the Colusa Rancheria, also known as the Cachildehe Rancheria.
Charter: The Cachil Dehe Band of Wintun Indians, with 45 original members, ratified their constitution and by-laws on November 23, 1941.
Constitution and ByLaws for the Cachil DeHe Band of Wintun Indians of the Colusa Indian Community
Name of Governing Body:  Colusa Indian Community Council
Number of Council members:
Dates of Constitutional amendments:
Number of Executive Officers:
Elections:
Language Classification: Penutian -> Wintuan -> Southern Wintuan -> Patwin (AKA Patween)
Language Dialects:
Patwin has three dialects: River Patwin was traditionally spoken along the Sacramento River in Colusa County. Hill Patwin was spoken in the plains and foothills to the west. Southern Patwin went extinct shortly after contact with Europeans.
Pitkin (1984) estimated that the Wintuan languages were about as close to each other as the Romance languages. They may have diverged from a common tongue only 2,000 years ago.
The Wintuan family is usually considered to be a member of the Penutian language phylum (Golla 2011:128-168) and was one of the five branches of the original California kernel of Penutian proposed by Roland B. Dixon and Alfred L. Kroeber (1913a, 1913b).
However, recent studies indicate that the Wintuans independently entered California about 1,500 years ago from an earlier location somewhere in Oregon (Golla 2007:75-78).
The Wintuan pronominal system closely resembles that of Klamath, while there are numerous lexical resemblances between Northern Wintuan and Alsea that appear to be loans (Golla 1997; DeLancey and Golla 1997; Liedtke 2007).
Number of fluent Speakers:
All Wintuan languages are severely endangered. Wintu may only have 2 speakers left. Nomlaki has few to none speakers. One speaker of Patwin (Hill Patwin dialect) remained in 1997. Southern Patwin, once spoken by the Suisun local tribe just northeast of San Francisco Bay, became extinct fairly soon after contact with whites and is thus poorly known (Mithun 1999). Gordon (2005) reports 5-6 speakers total for all Wintuan languages. Wintu proper is the best documented of the four Wintuan languages.
Dictionary:
The Colusa Indian Community Council published a language book and are working on language CDs and DVDs to help foster language preservation.
Origins: 
Bands, Gens, and Clans 
Related Tribes:
Traditional Allies: 
Traditional Enemies:
Ceremonies / Dances:
Modern Day Events & Tourism:
Legends / Oral Stories:
Art & Crafts:
Animals:
Clothing:
Adornment:
Housing:
Subsistance:
Economy Today:
The tribe owns and operates the Colusa Casino Resort, Seasons Buffet, Wintun Steakhouse, and Jack's Lounge, all located in Colusa.
Originally, Colusa Casino Resort opened as Colusa Bingo in 1986 as a 1,200 seat high-stakes bingo hall.  The first 80 slot machines were introduced in 1992.
In 2004, a large expansion included the addition of a hotel, additional casino floor space to accommodate slot machines and table games, and increased restaurant space which is home to a 24-hour restaurant, Wintun Steakhouse, and the newly remodeled Jack's Lounge.
As with many gaming tribes, Colusa Casino Resort has been a proven profit center for the Colusa Indian Community Council.  With Casino seed money, the Colusa Indian Community Council has embarked on various endeavors in an effort to ensure the tribe's future growth and financial prosperity.
Some of those efforts include: The Colusa Indian Health Center, Wellness Center, and Hand-in-Hand daycare facility – all of which are open to the public.
The Colusa tribe's portfolio also includes the purchase and development of agricultural lands, used mostly for raising rice, and including a hunt club business – Outdoor Adventures. Big game, waterfowl and sport fishing excursions are available throughout the year.
The Colusa own over 200 acres, and farm an additional 4,000 acres, mostly rice fields.
Religion & Spiritual Beliefs:
Mt Shasta is sacred ground to the Colusa people. In the video below, a Wintun elder talks about the Inipi(sweat lodge), Bear Medicine Lodge, and the importance of passing on tribal traditions.

Burial Customs:
Wedding Customs
Radio:  
Newspapers:  
Wintun Leaders:
Catastrophic Events:
Tribe History:
In the News: 
Further Reading:
Handbook of the Indians of California, with 419 Illustrations and 40 Maps

Legends of the Wintu Indians of Northern California

Tribes of California

Handbook Of The Indians Of California V1 (Kroeber)