Who are the Assiniboine and Sioux Tribes ?
The Fort Peck Reservation is home to two separate American Indian nations, each including numerous bands and divisions. The Sioux divisions of Sisseton, Wahpetons, Yanktonais, and the Teton Hunkpapa are all represented. The Assiniboine bands of Canoe Paddler and Red Bottom are also included in this tribe. Scholars believe that the Assiniboine broke away from Yanktonai Dakota (Sioux) in the 16th century.
Official Tribal Name: Assiniboine and Sioux Tribes of the Fort Peck Indian Reservation
Address:  P.O. Box 1027, Poplar, MT 59255
Phone: 406.768.2300
Fax: 406.768.5478 
Email: [email protected] 
Official Website: http://www.fortpecktribes.org/
Recognition Status: Federally Recognized
Traditional Name / Traditional Meaning:
The Assiniboine called themselves Hohe Nakota. There are also many Assiniboine bands, which also have names for themselves.
Common Name / Meaning of Common Name:
Assiniboine and Sioux Tribe 
The English borrowed Assiniboine from earlier French colonists, who had adapted it from what they heard from the Ojibwe.
Other tribes associated "stone" with the Assiniboine because they primarily cooked with heated stones. They dropped hot stones into water to heat it to boiling for cooking meat. Some writers see this as a confusion between "-boine" and French "bouillir", to boil.
Also see this explanation of Sioux Names and the Sioux Nation.
Alternate names:
The Assiniboines are also known as the Assinipwat, Fish-Eaters, Hohe, Stoney, Stoneys, Stonies.
Alternate spellings / Mispellings:
 Assiniboin, Assiniboins, Nakoda or Nakona
Name in other languages:
In Ojibwe: Asinaan, or asinii-bwaan meaning "stone Sioux"
In Cree: asinîpwâta  from asiniy ("rock, stone") and pwâta ("enemy, Sioux").
Region: Great Plains Tribes
State(s) Today: Montana
Traditional Territory:
The Assiniboin are a Siouan-speaking group who separated from the Nakota (Yanktonnai) in northern Minnesota sometime before 1640 and moved northward to ally themselves with the Cree near Lake Winnipeg. Later in the century they began to move westward, eventually settling in the basins of the Saskatchewan and Assiniboine rivers in Canada, and in Montana and North Dakota north of the Milk and Missouri rivers. They were on the Ottawa River in 1836.
Confederacy: Sioux Nation
Treaties:
Reservation: Fort Peck Indian Reservation and Off-Reservation Trust Land
The Fort Peck Reservation is 110 miles long and 40 miles wide, encompassing 2,093,31 acres (approximately 3,200 square miles). Of this, approximately 378,000 acres are tribally owned and 548,000 acres are individually allotted Indian lands. The total of Indian owned lands is about 926,000 acres.  It is the ninth-largest Indian reservation in the United States and second largest in Montana. It comprises parts of four counties.
Land Area:  2,093,31 acres (approximately 3,200 square miles)
Tribal Headquarters:  Poplar, MT
Time Zone:  
Population at Contact:
Registered Population Today:
There are an estimated 10,700 enrolled tribal members, of whom about 6,800 Assiniboine and Sioux live on the Fort Peck Reservation, with another approximately 3,900 tribal members living off the reservation.
Enrollment requirements for the Assiniboine and Sioux Tribes of Fort Peck
Genealogy Resources:
Government:
Charter: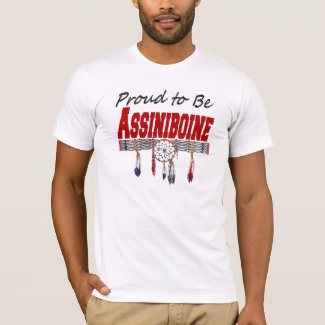 Buy this Proud to be Assiniboine Fitted T-shirt  The Fort Peck Tribes adopted their first written constitution in 1927. The Tribes voted to reject a new constitution under the Indian Reorganization Act in 1934. The original constitution was amended in 1952, and completely rewritten and adopted in 1960.
Name of Governing Body:  Tribal Executive Board (TEB)
Number of Council members:   12
Dates of Constitutional amendments: 
Number of Executive Officers:  The TEB is comprised of a Chairman, Vice-Chairman, Sergeant-at-Arms, and twelve voting members.
Elections:
All members of the governing body, except the secretary-accountant are elected at large every two years.
Language Classification: Siouan => Nakoda, and Dakota
Language Dialects:
The Assiniboine speak  varieties of Nakóda, a distant, but not mutually intelligible, variant of the Sioux language. The Sioux members speak Dakota, another branch of the Sioux language.
Do You See What I Mean?: Plains Indian Sign Talk and the Embodiment of Action
Number of fluent Speakers: 
Dictionary:
Origins: 
Bands, Gens, and Clans: Assiniboine Bands, Sioux Nation
Social Organization:
Related Tribes: 
Traditional Allies:
The Assiniboine were close allies and trading partners of the Cree.  They worked with the Mandan, Hidatsa, and Arikara tribes, now known as the Three Affiliated Tribes. They did a lot of trading with European traders.
Traditional Enemies:
The Assiniboine and Cree engaged in wars together against the Atsina (Gros Ventre), and they also fought the Blackfoot together.
Ceremonies / Dances:
Modern Day Events & Tourism:
Fort Peck Tribes annual celebrations include Red Bottom Celebration in June, Badlands Celebration in June, Fort Kipp Celebration in July, Wadopana Celebration in August and Poplar Indian Days in September. 
Museums:
The Fort Peck Culture Center and Museum features permanent exhibits of Assiniboine and Sioux heritage, arts and crafts.
Create your own reality
Lakota Star Knoledge
Legend of the Talking Feather
The End of the World according to Lakota legend
The Legend of Devil's Tower
The White Buffalo Woman
Tunkasila, Grandfather Rock
Unktomi and the arrowheads
Art & Crafts:
To Honor and Comfort: Native Quilting Traditions
Animals:
Clothing:
Adornment:
Housing:
The Tipi: Traditional Native American Shelter
Subsistance:
Economy Today:
The tribe supplies the majority of the employment, which provides work to 400 employees in government. A prosperous industrial park in Poplar is one of the largest employers in Montana. A variety of enterprises, including metal fabrication and production sewing, are housed here. Other industries, including an electronics manufacturer, flourish on the reservation. Farming, ranching and oil extraction also play a part in the reservation economy. 
This tribe has a fairly large buffalo herd.
Religion Today:
Traditional Religion & Spiritual Beliefs:
Burial Customs: 
Wedding Customs 
Education and Media:
Educational history on the Reservation includes a government boarding school program which was begun in 1877 and finally discontinued in the 1920s. Missionary schools were run periodically by the Mormons and Presbyterians in the first decades of the 20th century, but with minimal success. The Fort Peck Reservation is served by five public school districts, which are responsible for elementary and secondary education.
Tribal College:  Fort Peck Community College offers nine associate of arts, six associate of science, and ten associate of applied science degrees.
Radio:  
Newspapers:  
Assiniboine Chiefs and Famous People
Sioux Chiefs and Famous People
Frank W. Warner (Pisappih Timbimboo)1861–1919 The son of  Sagwitch and his wife Tan-tapai-cci, he was one of the first Native Americans to serve as a missionary for The Church of Jesus Christ of Latter-day Saints.  He was wounded at the Bear River Massacre.
Horse's Ghost – Was a Sioux Chief in Montana at the Fort Peck Indian Reservation who argued for Native American rights with members of President Taft's administration.
Chaske Spencer – Actor and producer.  His heritage includes Lakota, Nez Perce, Cherokee, Creek, French, and Dutch, but he is a member of the Fort Peck Tribe.
Arthur Amiotte, (Oglala Lakota)-Painter, Sculptor, Author, Historian 
Minnie Two Shoes (1950—2010), journalist, activist, co-founder of the Native American Press Association
Bryan Akipa, flutist (Sisseton-Wahpeton Oyate)
Catastrophic Events:
During the winter of 1883/84, over 300 Assiniboines died of starvation at the Wolf Point sub-agency when medical attention and food were in short supply. Rations were not sufficient for needs, and suffering reservation-wide was exacerbated by particularly severe winters. The early reservation traumas were complicated by frequent changes in agents, few improvements in services, and a difficult existence for the agency's tribes.
Tribe History:
History of the Assiniboine People from the Oral Tradition
Sioux & Assiniboine Tribes and Fort Peck Reservation Timeline
Descendants Remember Battle of Little Big Horn
The History of the Assiniboine and Sioux Tribes of the Fort Peck Indian Reservation, 1600-2012
In the News: 
Further Reading:
Peyote Religion

North American Indian Belief and Ritual

The Assiniboine

Fort Peck Indian Reservation, Montana